Synteflex®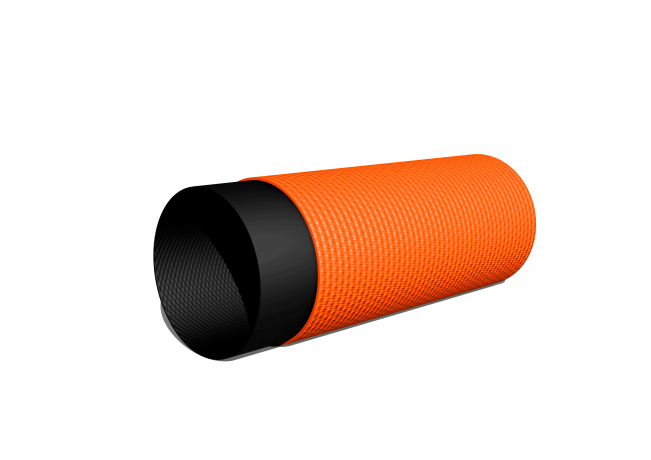 Performance
Light hose with a weight of 240gr/m.
Highly flexible hose, with a high bending ratio without collapse.
Bending radius of 400mm.
Easy-to-handle hose, also comfortable to move and drag. Easy sliding on the ground by one person. Big turn on stairs.
High resistant hose to continuous use in the last outflow section. Its burst over 90 bar ensures its safety.
Low pressure loss due to its specially formulated rubber inner. Smooth inside.
Its color makes it easy to find.
High adhesion over 40N, which guarantees durability and resistance. The better the adhesion of layers is the better the ageing. Far exceeds the requires of the standard NF 61112.
High resistance to abrasion.
Easy to pick and roll up.
Supplied with hard anodized aluminum fittings in red.
Fitted with corrosion resistant stainless-steel wire. Red colored ral 3001.
Uses
Ideal for urban fires as last sections in the extinguishing line.
Industrial use
Security services
Technical assistance services
Construction
Manchon or Interior layer:
Specially formulated Black EPDM rubber inner. High resistance to temperature variations.
Minimal pressure loss due to its smooth inner wall.
Exterior layer:
Circular weaved outer layer made from high tenacity polyester thread.
Twill weave with two stripes along the whole length of the hose.
No defects such as broken threads, knots etc.
Color: red or orange subject to availability.
Technical characteristics
 
DIAMETER
WEIGHT
THICKNESS
WORKING PRESSURE

BREAKAGE PRESSURE

TRACTION
 
 
"
mm.
gr/m.
mm.
Bars
Bars
Kg
 
 
11/2"
38
260
2,1
30
90
6000